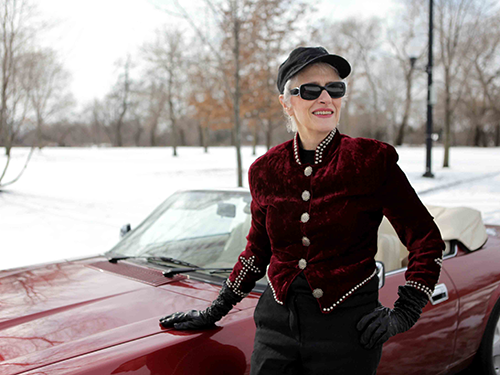 Before there was Lisbeth Salander or Stephanie Plum, there was V.I. Warshawski. Sara Paretsky revolutionized the mystery world in 1982 when she introduced V.I. in Indemnity Only. By creating a believable investigator with the grit and the smarts to tackle problems on the mean streets, Paretsky challenged a genre in which women typically were either vamps or victims.
Hailed by critics and readers, Indemnity Only was followed by nineteen more best-selling Warshawski novels. The New York Times writes that Paretsky "always makes the top of the list when people talk about female operatives," while Publishers Weekly says, "Among today's PIs, nobody comes close to Warshawski."
Called "passionate" and "electrifying," V.I. reflects her creator's own passion for social justice. As a contributor to the New York Times and the Guardian newspapers, and a speaker at such venues as the Library of Congress and Oxford University, Paretsky is an impassioned advocate for those on society's margins. After chairing the school's first Commission on the Status of Women as a Kansas undergraduate, Paretsky worked as a community organizer on Chicago's South Side during the turbulent race riots of 1966. More recently, Paretsky served with then-state senator Obama on the board of Thresholds, which serves Chicago's mentally ill homeless. She has mentored teens in Chicago's most troubled schools, and works closely with literacy and reproductive rights groups.
Not only has Paretsky's own work broken barriers, she has also helped open doors for other women. In 1986 she created Sisters in Crime, a worldwide organization to support women crime writers, which earned her Ms. Magazine's 1987 Woman of the Year award. More accolades followed: the British Crime Writers awarded her the Cartier Diamond Dagger for lifetime achievement; Blacklist won the Gold Dagger from the British Crime Writers for best novel of 2004, and she has received the honorary degree of Doctor of Letters from several different universities. The actress Kathleen Turner played V.I. Warshawski in the movie of that name and Paretsky's work is celebrated in Pamela Beere Briggs's documentary, Women of Mystery. Today Sara Paretsky's books are published in 30 countries.
She detailed her journey from Kansas farm-girl to New York Times bestseller in her 2007 memoir, Writing in an Age of Silence, which was a National Book Critics Circle Award finalist. In addition, Paretsky has written two highly-acclaimed stand-alone novels, Ghost Country, used in many seminary classrooms, and Bleeding Kansas, set in the part of rural Kansas where Paretsky grew up. She has published two collections of her own short stories, most recently Love & Other Crimes, and edited four other anthologies.
Like her fictional detective, Paretsky lives and dies with the Cubs, runs Chicago's lakefront with her golden retriever, and loves to sing, taking part in community musicals. Paretsky lives on Chicago's south side with her husband, a member of the University of Chicago's Fermi Institute.
1. If you were in a fire, what would you absolutely have to save—besides your dog and your husband, of course.
My funny little monkey, John, who I got for my second birthday. He doesn't even have a face any more, but he has followed me on all my journeys.
2. People write about you and chocolate—is it really that serious an addiction?
Not nearly as much as my cappuccino addiction. My doctor told me I needed to give up red wine, chocolate and caffeine. I found I can do without chocolate but not cappuccino. I spent way too much time with Signor Pasquini—my Livia 90 home machine—and I even went to cappuccino school.
3. Do you and V.I. share the same taste in whisky?
As I've aged, I've become less able to drink. I have a fabulous collection of single malt whiskies—about a dozen different ones—but I very seldom drink whisky any more. Someone actually published an essay on V.I. and her love of delicious Armagnac, and mourned her failure to drink it any more, and I realized that poor V.I., who goes into dark cellars and other slime-infested corners of Chicago on my behalf, was being forced into teetotallerdom. So I've tried to up her alcohol consumption in Hardball.
4. V.I. is always wrecking her cars—what about you?
No way! My pride and joy is a 1995 red Jaguar convertible. When I'm behind the wheel, I feel young and incredibly hip, knowing I'm driving the coolest car on the road.
5. Are you as messy as V.I.?
Alas, yes. When I worked for CNA Insurance in Chicago, my cubicle was regularly featured as the messiest place in the marketing department—they'd put a Polaroid of it up on the company bulletin board as a cautionary tale to other staff members.
6. Is there something about you that would surprise people who don't know you?
I cry in Lassie movies, and I am terrified of cockroaches.
7. What's the best thing about writing?
You get to explore a thousand different personalities, all by going deep into your own soul
8. What's the worst thing?
You have to be alone to write, but being alone is very painful. An unsolvable conundrum.