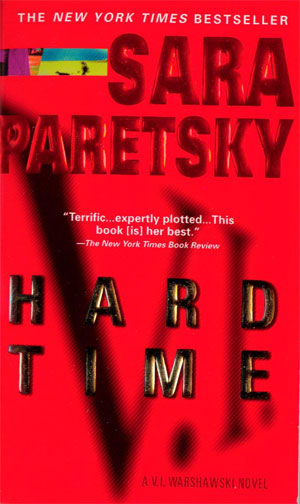 Hard Time
PUBLISHED September 1999
Among the first, and perhaps the most compelling, female private investigators of contemporary fiction, Sara Paretsky's incomparable character V.I. Warshawski at last returns to the page in her first full-length appearance since 1994's Tunnel Vision. Hard Time is the work of a master–a riveting novel of suspense that is indisputably Paretsky's best V.I. Warshawski novel yet.
Multimedia conglomerate Global Entertainment has purchased the Chicago Herald-Star, forcing the paper's staff to scramble to stay employed. Reporter Murray Ryerson, V.I.'s longtime friend and sometime rival, manages to reinvent himself as the host of a television show on Global's network. On her way home from a party celebrating Murray's debut, V.I. almost runs over a woman lying in the street. Stopping to help, V.I. soon learns that her Good Samaritan act will drop her squarely in a boiling intrigue.
In a case that forces her to go head-to-head with one of the world's largest providers of private security and prison services, a case that exposes dark hidden truths behind the razzle-dazzle of the entertainment industry, V.I. will be ahead of the game if she gets out alive.
Reviews and Quotes
Hard Time jumps quickly out of the blocks … Warshawski's street smarts have never been keener, her compassion for the down-trodden never more convincing, her day-to-day efforts just to get along never more compelling…. When it comes to creating character, evoking place, writing crackling and convincing dialogue, and dealing with issues of substance within the crime genre, Sara Paretsky has no peer—and Hard Time proves it once again. — Chicago Tribune
[V.I.] returns in great form … Defiant, sardonic, ostentatious, she stirs every hornet's nest and breasts the murkiest currents to emerge vindicated and triumphant in the end.— Los Angeles Times
After more than 5 years away from her beloved detective character, the Chicago author gets have to what she does best in Hard Time…. [Warshawski] is just as vivid, flawed and impassioned as when we last saw her…. Chicagoans will again appreciate Paretsky's carefully drawn portrait of Chicago neighborhoods…. It's vintage V.I. with detailed interlocking tales of hidden corruption … Welcome back, V.I. We missed you. — Chicago Sun-Times Book Week
This is the best Warshawski novel ever and well worth waiting for. Brilliantly plotted, full of heart-wrenching emotion, packed with fast-paced action, and peopled with richly complex characters. — Booklist (starred)
…and one of her most satisfying ambitious novels yet…A triumphant return to form for V.I., who's come back from a five-year sabbatical. — Kirkus Reviews (starred)
Hurrah and welcome back, V.I.—and Sara P. … illegal aliens, labor problems, political corruption and prison abuse all mix into the intrigue. Paretsky weaves a thread of loss throughout this journey to hell and back. — Publishers Weekly (starred review)
IN THE PRESS
"Terrific...expertly plotted...This book [is] her best." — The New York Times Book Review