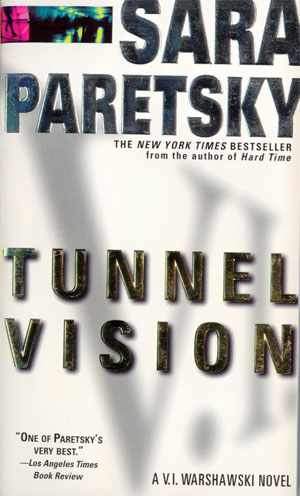 Tunnel Vision
PUBLISHED 1994
Her office building is falling down, the unpaid bills are mounting up. V.I. Warshawski needs a lucrative case and needs it fast. Instead, her most important client demands that she find a community service job to keep his computer-hacking son out of jail.
At the same time, V.I. is worried about a homeless family she found in the basement of her office building. Her search for emergency shelter sends her to Home Free, a charitable organization for the homeless headed by an old college flame. She's puzzled by Home Free's cold response, and even more troubled when they start giving the runaround to a group of tradeswomen she knows.
Hard up for money, V.I. resists investigating Home Free until one of its board members is murdered in the detective's own office. The track she follows leads her to the trail of tormented runaways, abused spouses, and a cynical financial fraud that stretches from Chicago's banks to the halls of Congress.
As she nears the dramatic climax of her punishing case, with her emotional and physical resources taxed to the limit, V.I. finds she must choose between her private happiness and her sense of justice…and learns that the hardest questions she must answer are the ones she asks herself.
Tunnel Vision marks the eighth appearance of V.I. Warshawski, who's been called "the most engaging woman in detective fiction since Dorothy Sayers's Harriet Vane" (Newsweek), "the detective mystery fans have been waiting for" (Time), and "a gumshoe for modern times" (People).
Reviews and Quotes
As prickly and principled as ever, Chicago's preeminent female PI, V.I. Warshawski, forcefully unravels several knotted mysteries in Paretsky's latest complex, satisfying novel. V.I. encounters a homeless woman and her children in the basement of her derelict downtown office building. When she mentions the family at a board meeting of a shelter for abused woman, board member Deirdre Messenger offers to seek help from Home Free, another organization she is involved with. Soon, however, Deirdre's bludgeoned body is found in V.I.'s office. Setting out to find the murderer, the almost-40 detective gradually uncovers a mammoth financial scam that may link the dead woman's husband (an ambitious University of Chicago Law School professor), the ranking U.S. Senator from Illinois, a Chicago bank owner and Home Free's director, a radical activist who was at law school with V.I. in the '60s. Equally compelling—to V.I. and the reader—are the plights of the homeless family and of the Messenger children, teen-aged Emily and her two young brothers, who disappear soon after their mother's death. Breaking laws and alienating friends—including her lover Conrad, a Chicago police detective —V.I. faces down rats in high places and low, from the cornfields of the Senator's agribusiness to the tunnels, deep under the Chicago Loop, flooded by a water-main break. Paretsky's V.I. is a rare literary entity, a woman quick to anger and action, yet sympathetic and credible.
— Publishers Weekly
V.I. Warshawski remains an appealing character, a soft-boiled detective who ages with time, who bruises when punched and who still misses her mother…best of all, she gets mad when pushed around or patronized, and goes to work determined to get even.
— The New York Times
Complex, satisfying …Paretsky's V.I. is a rare literary entity, a woman quick to anger and action, yet sympathetic and credible.
— Publishers Weekly
Articulate and independent…Warshawski never wears thin.
— San Francisco Chronicle
IN THE PRESS
"One of Paretsky's very best." — Los Angeles Times Book Review