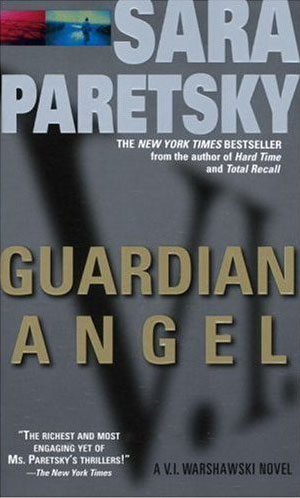 Guardian Angel
PUBLISHED 1992
Racine Avenue is going upscale—bad news for hand-to-mouth residents like V.I. Warshawski. As tax bills skyrocket, newcomers pressure old inhabitants into fixing up their homes or moving out. To the yuppies on the block the worst eyesore belongs to old Hattie Frizell, whose yard is "returning to native prairie, complete with hubcaps." Their block club wants her and her five dogs gone.
V.I. and Hattie have a relationship of sorts: one of those five dogs gave V.I.'s dog Peppy an unwelcome litter. When Hattie slips in her bath and is rushed unconscious to the hospital, V.I. feels compelled to get involved. But neighboring lawyer Todd Pichea and his wife, Chrissie, act swiftly to get the courts to make them Hattie's legal guardians. V.I. returns from a business trip to find they've put the old woman's dogs to sleep. Furious, V.I. starts poking around in the Picheas' affairs, hoping to turn up something scandalous enough to make them lose their guardianship.
Hattie isn't the detective's only worry. When her downstairs neighbor's oldest friend disappears, Mr. Contreras persuades V.I. to investigate. As she probes both problems, V.I. uncovers a scandal linking one of Chicago's oldest industrial families to union fraud and a politically connected bank. Her investigation takes her into the depths of the steamy Sanitary Canal and brings her eyeball-to-eyeball with her ex-husband, Dick Yarborough. When her dear friend Lotty Herschel and her own lawyer turn against her, V.I. is left alone to struggle with the most serious case of her career.
Guardian Angel, the seventh in Sara Paretsky's best-selling series, proves once again that V.I. Warshawski is "America's most convincing and engaging female private eye." (Entertainment Weekly).
Reviews and Quotes
With each novel Paretsky lets intrepid detective V.I. Warshawski (aka 'Vic') take a few more physical lumps, though the more interesting dings are emotional ones. Here Paretsky constructs and maintains one monster of a plot…. The author's gift for finding the precise urban setting and crafting her narrative jigsaw puzzle with unerring accuracy remains intact.
— Booklist
Rich in character and atmosphere…Guardian Angel shows Vic in a different, somewhat softer light. She's certainly not mellow, but refreshingly introspective, and uncharacteristically vulnerable.
— San Francisco Chronicle
V.I. Warshawski is that rarity among fictive P.I.'s—a fully realized character…Sara Paretsky's sensitivity and moral perspective, coupled with her fine talent, make her a significant American novelist.
— Mostly Murder
It isn't until page 50 of Sara Paretsky's new novel, Guardian Angel, that a client engages V.I. Warshawski to track down a missing old man. But our interest never flags, since plenty of solid groundwork is being laid and we get into the detective's skin much more than is usual in a private-eye novel.
The plot serves nicely to bring V.I. into contact with tough, down-and-out types, whom Ms. Paretsky draws extremely well. Tessie, a middle-aged barmaid, comments on V.I.'s search for a supposed missing uncle: "Hope you find him, honey. These old drunks eat up a lot of family time." Someone else, who had recently turned down Kruger's invitation for a drink, tells her: "I know what those drinks with Mitch are like. The next thing you know he's had 10 and you either have to carry him home or pay to repair a window."
Ms. Paretsky obviously knows and loves Chicago, describing it with the light but effective touch that characterizes all the writing in this novel. V.I. turns her car "down Congress toward Louis Sullivan's masterpiece," and a while later briefly describes the Sanitary and Ship Canal, built to connect the Illinois and Chicago rivers back in 1900, as a "30-mile stretch of water, crisscrossed by rail beds," along which "grain and cement elevators hover over heaps of scrap metal." Chicago fits V.I. like a glove; both the city and the detective are blue-collar.
— Vincent Patrick
IN THE PRESS
"The richest and most engaging yet of Ms. Paretsky's thrillers!" — The New York Times